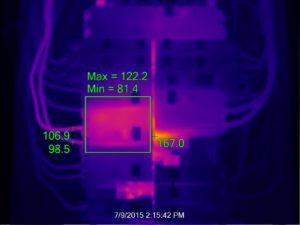 Thermal Imaging is one of the best ways to determine the condition of your building. Using an experienced and skilled thermogarpher, such as us,  can deliver you detailed information that would otherwise be unknown and can even be a liability for you and your property.
Thermal imaging has quickly become one of the best, and ultimately, most effective and valuable diagnostic services for many different types of commercial, industrial, and unique applications
If you are purchasing a building, consider having a thorough and detailed thermal scan performed.
When to Use Thermal Imaging
Some of the many different applications of thermal imaging include the following
Electrical Inspections
Flat Roof Inspections
Energy Efficiency Surveys
Mechanical Equipment Inspections
Mechanical Maintennce Inspections
Plumbing Leak Detection
Structural Inspections
Concealed Insulation Inspections
Moisture Intrusion Inspections
Building Envelope Inspections
Radiant Floor Heating Inspections
and much more…
Contact us today to discuss your Thermal Inspection needs and questions!